[CALL CLOSED] VISESS 2022 Spring Call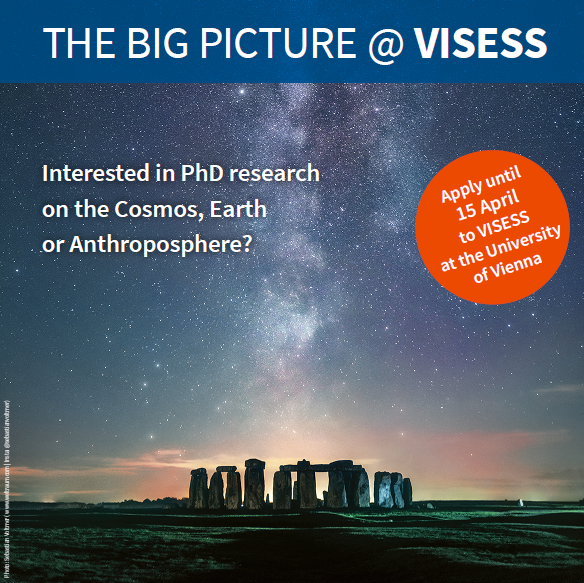 [CALL CLOSED] VISESS 2022 Spring Call
Interested in PhD research on the Cosmos, Earth or Anthroposphere in an inspiring and interdisciplinary environment? - Apply at the Vienna International School of Earth and Space Sciences!
The doctoral school is currently soliciting applications for 9 PhD positions in the three branches 'Cosmos', 'Earth' and 'Anthroposphere'. Inform yourself about the projects.
Convinced you want to be part of VISESS? Fill out the application form until the

deadline of 15 April 2022

!
Application Process VISESS 2022 Spring Call
To apply, download the application form and fill it out. Note that there is no word limit for fields in the form.
Upload the application form on our recruiting website. To access the recruiting website, you are required to create a personal account (u:account). Refer to this link for a quick how-to. Do not deactivate "Don't notify me" after you submitted your application. Otherwise you will not receive any update on your application status.
After the deadline, applications will be reviewed and evaluated in a multi-step process. Short-listed candidates will be invited for a (remote) interview. The selected top candidates will receive an offer shortly thereafter.
All applicants will be kept informed of the status of their application.
Any further questions? Please contact admin.visess@univie.ac.at.
VISESS Poster for download
Thank you for advertising our call / poster at your institution's notice board!